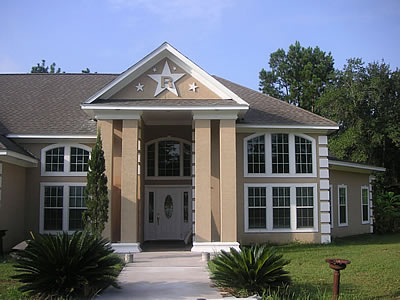 REMODELING YOUR WAY TO YOUR DREAM HOME
It happens to most of us at one time or another. Your family situation has changed, or maybe your hobbies have caught up with you, or perhaps you've decided to take advantage of the technologies available and cut your commute to work by walking down the hallway.
Whatever your scenario, you need more rooms – better lighting – more cabinets – the list goes on. The bottom line is you like your house, plus you want to stay close to friends, family, school, and church or temple. The best solution is remodeling.
Anybody who has ever remodeled has a story. Some have wonderful stories and some have felt the heartache that comes with not doing their homework. The fact is most of the problems can be avoided by knowing where to start and proceeding from there. There are five steps to ensure your makeover experience is a good one.
STEP 1 – WANT or NEED?
This is probably the most fun aspect of remodeling, but soon becomes the most challenging. Trying to decide what you want versus what you need. Take into consideration your family's lifestyle and what fits with how you live now. Make a "Wish list" and prioritize it. What is an absolute must, or need, and what you can do without. Look not only hard at your house, but look at your lot – your neighborhood – what needs to be updated and/or repaired. Is there room for expansion, and what about the property values in your neighborhood. What are you willing to spend?
Begin maintaining a file with photos and ideas from magazines. Now is the time to start collecting color samples, along with the styles and ideas you like. It is your opportunity to brainstorm and look at every possible scenario and concept. Dare to dream, but of course, it will need to fit in your list of priorities and budget.
STEP 2 – SELECTING THE RIGHT MAGICIAN
In the right hands, a remodeler can be a magician who will continue to amaze you with the ability to breathe life into your home. With some exceptions, in most cases, it is easier to work with a "design/build remodeler." This is a company that handles every aspect of the project – from design to final construction. They are responsible for coordinating the entire endeavor, leaving less room for error, and giving you one company to call for questions and concerns.
Show the remodeler your "wish list" and discuss the budget for the project. Remodeling projects can expand and those wish lists get very long. Remember – the cost of remodeling goes up with each item added to the wish list.
Choose the remodeler with whom you fell most comfortable. You have checked their credentials and references – discussed budget, schedule, similar past projects, and wish list. You should be able to confidently choose the remodeler who best matches your project.
STEP 3 – PLANNING PHASE
Once you have chosen the right remodeler, it's time for the next step – providing all the information. There are several components to the "package" of information.
Floor plans are the views of the walls as if you were looking down on the house. Usually, it will include wall locations, doors, light, switch, and plug locations. Elevations are views of the walls if you were standing viewing walls straight on. The roof plan obviously shows the roof, while the Wall sections will display how walls will be constructed. The Scope of Work will show the list of tasks and materials for plumbers, electricians, etc. involved. The list will include the selections you've made regarding cabinets, appliances, hardware, etc.
Poor planning can also cause the project to go over budget in several ways. Without proper direction, a more costly construction method is used than necessary. Added labor and materials will be needed when, due to poor planning, something is built, then torn out, and rebuilt again. There have been many stories told, but one of the most mind-boggling is that of a staircase being built – torn down – rebuilt – TORN DOWN AGAIN – and rebuilt a third time.
Without proper planning, floor plans and designs may not provide the needed solutions. An example could be the addition of a master bath. It the toilet can be seen from the master bedroom door as well as from the family room, that's a problem. Certainly it's obvious once it is done, but better planning would surely avoid a truly embarrassing situation.
A strong plan will also help reduce stress, conflicts, and arguments between you and the remodeler. Inadequate expectations and planning have a way of spilling over to your personal life. You will be arguing with your spouse over what was decided, what colors to pick, and the $3,000 floor! "What if I make the wrong decision?"
During your first meeting about the design, the company's designer will want to listen to your needs, wants, tastes, and budget. They should be asking a lot of questions, while making suggestions and recommendations. They are the remodeling experts and it's their job to know trends, styles, and designs. Take advantage of that and don't be shy about adding to the conversation. After all, you will be the one living there.
Be sure to allow enough time to plan! We all want it yesterday, but remember, one step in planning saves two steps in construction. There are many selections ahead – appliances, light fixtures, carpet, tiles, etc. Make sure you have enough time to make a proper choice and allow enough time for it to be delivered. You will find the best remodeler is extremely organized.
STEP 4 – CONSTRUCTION
Now the fun begins…right after you say to yourself, "What have I gotten into!?" Your home will get messy, dirty, dusty, and loud as the job progresses. But, you'll see your ideas come to life. Just about the time you get used to the disruption, you'll come home and see the new tile floor – or kitchen cabinets – new sink, etc. And before long, the magic has taken place. The job is finished, the dream complete!